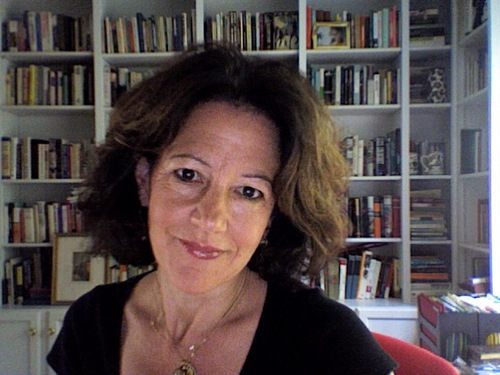 As part of our mission to promote authors, the joy of reading, and to better understand the craft of writing, we've paired with the The Norwich Bookstore in Norwich, Vermont to present an ongoing series entitled "3 Questions".  In it, we pose three questions to authors with upcoming visits to the bookstore.  Their responses are posted on The Book Jam during the days leading up to their engagement.  Our hope is that this exchange will offer insight into their work and will encourage readers to attend these special author events and read their books.
This post features Marianne Szegedy-Maszak author of I Kiss Your Hands: Hearts, Souls, and Wars in Hungary, her first book.  Ms. Szegedy-Maszak's journalism career has spanned over twenty-five years and has included covering the collapse of communism, the Republican Revolution, 9/11 and social policy for the New York Times Magazine, Esquire, Harpers Bazaar, and many more.
Ms. Szegedy-Maszak will appear at the Norwich Bookstore at 7 pm on Wednesday, April 9th to discuss her work. Reservations are recommended. Call 802-649-1114 or email info@norwichbookstore.com to reserve your seat.
1. What three books have helped shape you into the author you are today, and why? 
Always difficult to narrow things down to threes, when there is such a rich and wonderful collection of influences. One of the first and most influential books for me was Nixon Agonistes by Garry Wills. It was a book that grew out of his brilliant coverage in Esquire of Nixon's campaign and I was a senior in high school when I read it and at that moment knew I wanted to be a journalist. The depth of insight, the richness of his writing, and the way he brought his formidable intellect to bear on covering this tragic president– before Watergate– was astonishing.
I remember reading Speak Memory by Nabokov, a memoir of his life in Czarist Russia right at the twilight of an era, with a little notebook and every once in a while I would just copy a sentence or a phrase. The details and the fluidity of memory that he captured by focusing on the most minute, superficially trivial details taught me that in memoir, it is so often about the trees, not the forest.
My Antonia by Willa Cather is a book that always brings a little lump in my throat when I think about it. Cather wrote with such astonishing simplicity in the voice of a young man, a slightly unreliable narrator, who nonetheless kept me suspended between his internal life and the world all around him. She had such total confidence as a writer, every word rings true, nothing is extraneous from physical to emotional details. After the more rococo prose of Wills and Nabokov, Cather is the cool drink of water.
2. What author (living or dead) would you most like to have a cup of coffee with and why?
I struggled to avoid being a Rebecca Mead copy-cat, but unfortunately I have to admit, that I would love to have a cup of coffee (or perhaps tea, or perhaps a good strong drink) with Mary Ann Evans, also known as George Eliot.  I loved Middlemarch, of course, always preferred her to Jane Austen (whose charms, I fear, elude me), but it is not just because Eliot is such a brilliant writer, or because she is so deftly political, but because she could be such an expert guide to a life lived both conventionally and very much on the margins.
3. What books are currently on your bedside table?
I was looking at that cluttered table and am a bit embarrassed by how many are there. The books on my nightstand are both reproaches and thrilling invitations. In no particular order (you can imagine the stack):