While it is hard to top the list the Pages in the Pub presenters gave us in November or the one that BOOK BUZZ students gave us earlier this month, for those of you still needing gift suggestions, we have a few books for you to try. We truly hope our list helps you succeed with your last minute present shopping. Happy Holidays!
Adults
Clever Novels for Fiction Lovers



The Nutshell by Ian McEwan (2016) – I heard about this retelling of Hamlet from the perspective of an unborn fetus while in the UK this summer. I was skeptical, but since I love most of Mr. McEwan's work I read it as soon as it was available.  WOW!  As Lisa Cadow said in our previous review  – this novel is treasure. Told from the completely unique perspective of a 9-month-old fetus awaiting his birth, we witness his mother, Trudy, and her lover, Claude, plotting the murder of his father. As Lisa Cadow said, this modern-day interpretation of Hamlet, Nutshell is at once tragic and immensely amusing — with the baby boy simultaneously evaluating his mother's wine choices while expressing his powerlessness to help his unsuspecting father. Told by a master writer at the height of his story-telling abilities, this is not to be missed.  ~ Lisa Christie and Lisa Cadow
Homegoing by Yaa Gyasi (2016) – A perfect debut novel to give to people who like to discover new authors. The work spans eight generations of characters living in Ghana, the UK and the USA. Thank you Liza Bernard for bringing this to our attention. ~ Lisa Cadow and Lisa Christie
Must Read Memoirs, with Belly Laughs

You'll Grow Out of It! by Jessi Klein (2016) – Recommended by Lucinda Walker, librarian extraordinaire, during Pages in the Pub, this laugh out loud, poignant, insightful memoir was exactly what I needed to counteract the vitriol of the recent election. ~ Lisa Christie
For Those Book Lovers Who Have Everything




Assorted Classics such as Sense and Sensibility, Madame Bovary, Inferno (for example),  from the Penguin Clothbound Classic series. Or, you might prefer the Word Cloud Classics faux leather series with  Great Expectations , Jane Eyre, and Anna Karenina to name a few. Titles in both these series are gorgeous and reasonably priced. Enjoy! ~ Lisa Cadow and Lisa Christie
Closet Mystery Lovers (We review a few more of these as they make great gifts.)




A Great Reckoning by Louise Penny (2016) – Somehow Ms. Penny cast of characters in her lovely Quebec Village of Three Pines makes murder comforting. The latest instalment of her Inspector Gamache series is well plotted, infused with poetry and just a great end of summer read.  Enjoy! ~ Lisa Cadow and Lisa Christie
The Waters of Eternal Youth by Donna Leon (2016) – Another superb Commissario Guido Brunetti mystery. This time a young girl is attacked and left for dead, but instead suffers severe brain damage.  Years later her grandmother asks Guido to investigate. The tale weaves illegal immigration, refugees and mental illness together.  It also allows us to spend time with Guido and his superb family. Enjoy. ~ Lisa Cadow and Lisa Christie
I Let You Go by Clare Macintosh (2016) – THE thriller for summer. Written by a retired UK police woman, this is better than than the books it gets compared to – Gone Girl and The Girl on the Train. You will like the characters, you will feel each plot twist and you will lose a day of productivity as you finish this novel. Have fun! ~ Lisa Christie
Girl in the Spider's Web by David Lagercrantz (2016) – Fans of The Girl with the Dragon Tattoo series will not be disappointed. This had me entertained for hours en route home from the UK. ~ Lisa Christie
For History Buffs



The Night Watch by Sarah Waters (2006) – This one is for fiction lovers. Yes, another WWII novel, but worth reading.  This time the plot revolves around people in London just after WWII ends, during the nightly bombings of WWII, and at the start of the war, all told backwards chronologically.  May of the women have taken up important positions as ambulance drivers, the men are in jail for a variety of crimes; their adventures and connection they share link the tales. The prose is beautiful and the images Ms. Waters creates of life for civilians during war memorable. ~ Lisa Cadow and Lisa Christie
Wine and War by Don and Petie Kladstrup (2002) – This one is for nonfiction readers. I haven't finished this yet as someone (hello Langhus Family) just gave it to me as gift, but I am loving this true tale of how the wine industry in France was saved during WWII. Combine this paperback with a bottle from France, and voila you have a perfect holiday gift combination. ~ Lisa Christie
For Food Lovers 

The easiest way to find great cookbooks is to visit our recent post on great cookbooks.
For Travellers and Others Who like Books about Cool Stuff




The Best Things in Life Are Free by Lonely Planet (2016) – Just when you thought Lonely Planet had covered all the travel book angles, they do it again. This time a guide to all things free as you travel this world. Have fun not spending money as a result of owning this book. ~ Lisa Cadow and Lisa Christie
Map Stories: The art of discovery by Francisca Matteoli – The author uses twenty places and voyages that inspired her to show how maps emerge from discovery and how discovery creates maps. ~ Lisa Cadow and Lisa Christie
Great City Maps: A historical journey through maps, plans and paintings by DK Smithsonian (2016) – This is like a museum in a book. The authors take you through maps of various cities and show you how cities are shaped by events, geography, and the people inhabiting. ~ Lisa Cadow and Lisa Christie
@Nat Geo: The most popular instagram photos by National Geographic (2016) – This could be the perfect gift for your favorite photographer or explorer. Perhaps you could have it accompany an actual camera under the tree for your aspiring picture takers or a coupon for an exploration of a nearby, unknown territory during the holiday break? ~ Lisa Cadow and Lisa Christie
Kids and Kids at Heart
For All Fans of Harry Potter

Fantastic Beasts and Where to Find Them by JK Rowling (2016) — This is terribly fun to read and really what is better than returning to the wonderfully magical world of Harry Potter? This time you visit in 1920 and hang out with a Hufflepuff hero. There is a reason JK Rowling once said that was her favorite Hogwarts house. Combine this screenplay with two tickets to see the movie, and you have a perfect last minute gift for almost anyone. ~ Lisa Cadow and Lisa Christie
For Those Who Like Memoirs and Biographies


The Distance Between Us: YA version by Reyna Grande (2016) – This book seems especially important with all the recent talk about walls along the US border and hatred towards illegal immigrants.  Ms. Grande has adapted her memoir for young adults and in it she tells of her life as a toddler in an impoverished town in Mexico, her three attempts to cross into the USA with a coyote as a young child, her life in LA as an illegal immigrant, how her family gained legal status and how she managed college. This is not for the faint hearted due to themes of physical abuse and complicated relationships with parents who are always leaving.  But it is important to be informed, and this book will put faces on any political discussions about immigration that the teens in your life might encounter. ~ Lisa Christie
Prisoner B-3087 by Alan Gratz (2013) – An amazing book about the holocaust that my 13 year old just declared probably "the best book he's read".  Mr. Gratz takes the true story of Jack Gruener, who was moved through ten concentration camps including Auschwitz, and with slight poetic license creates a tale of survival amongst unspeakable horrors that must be remembered. ~ Lisa Christie
Just for Fun



The Trials of Apollo: Book One by Rick Riordan (2016) – Mr. Riordan's treatment of mythology may be getting old for some, but not for me. Why? Well because his ability to capture teen angst and power remains spot on and perfect for narrating these tales. In his latest book, Apollo has fallen to earth as a teenage boy with flab and acne as punishment for his most recent sin against his father Zeus. He turns to his children at Camp Half Blood for help, and with his mortal enslaver manages to figure out what is going wrong on earth. The question is can he solve it? (Cliffhanger alert – Not in book one.) ENJOY! And thank you Augie Fortune for introducing me to this author all those years ago when you visited Vermont. ~ Lisa Christie
Raymie Nightingale by Kate DiCamillo (2016) – Ms. Camillo returns to 1970s Florida and creates a superb tale of three young girls who discover each other and themselves over the course of a summer.  The plot centers around Raymie's plan to bring her father, who left town two days ago with a dental hygienist, back — she will win the Little Miss Central Florida Tire competition, get her picture in the paper and remind him he needs to come home. First though she must learn to twirl a baton and defeat the two other girls in her lessons. Delightful! ~ Lisa Christie 
Just My Luck by Cammie McGovern (2016) – Truly a superb book that illustrates what it is like to be a 4th grader, have an autistic older brother, a distracted teacher, and feel as if you were the cause of your father's life-altering accident. Basically it shows what it is like to be loved and to love. ~ Lisa Christie 
Great for Reluctant Readers


Booked by Kwame Alexander (2016) – Another hit by Mr. Alexander. This time a soccer player experiences family hardships (divorce) and teen angst (soccer tryouts).  The poetry format is winning. And my 13-year-old fan of The Crossover finished this in 18 hours (with school interfering.) We also highly recommend The Crossover .~ Lisa Christie
Who is What Was Who Is series (assorted years) – We recommend this series every year, but they keep adding great books.  Truly perfect for reluctant readers, and they will learn a lot. ~ Lisa Cadow and Lisa Christie
Books Based in Historical Facts and/or People




The Seventh Most Important Thing by Shelley Pearsall (2015) – Listened to with my ten year old and his friend on a long trip to Maine. We all loved this tale of a "trash man" who is actually making an amazing piece of art (actual artist James Hampton), the boy who hurts him and the penance he must pay.  There are lessons for all in this, but most importantly there is a good story of what happens when someone tales the time to get to know someone. ~ Lisa Christie
The War that Saved My Life by Kimberly Brubaker Bradley (2015) — When Gary Schmidt (one of my favorite authors) blurbs a book with the words "I read this in two big gulps" I pay attention. This tale of two of the many children who were sent from London to the countryside for safety (think The Lion the Witch and the Wardrobe) is full of adventure, hardship, and ultimately love. I especially loved Ada and here feisty fight for her place in the world. ~ Lisa Christie
Salt to the Sea by Ruta Sepetys (2016) – Just when you thought you WWII had been written about from every angle, an author proves we needed another WWII book. In this one four teenage refugees and their friends flee the Russians and the Germans.  Their tales will haunt you as you listen to today's headlines about Syrian and other refugees. This one is important. ~ Lisa Cadow and Lisa Christie 
Anna and the Swallow Man by Gavriel Savit (2016) – This slim YA novel looks at life as a refugee – this time in Poland during WWII.  Anna's father never comes home from work on day and she is befriended by a mysterious stranger who remains nameless throughout the book. Somehow, the author makes walking in circles in Poland compelling and meaningful, especially in light of today's headlines from Syria. A great choice for fans of The Book Thief. ~ Lisa Christie 
Picture Books – We are going with the experts at Marion Cross School as heard during BOOK BUZZ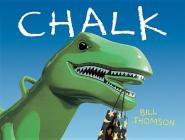 Chalk by Bill Thomson (2010). Selected by Ava B – Magic chalk drawings come to life.
Go, Dog. Go! by PD Eastman (1961). Selected by Mateo, presented with help from Drew – What is up in that tree?
HAPPY HOLIDAYS!!!  May the final days of 2016 be filled with books and loved ones.